Bypassing RFID Access Controls
Drake Bailey presented "Bypassing RFID Access Controls" at our Jan. 6th meeting. The topic included information about how RFID badges work, a demo on various risk scenarios, and possible ways to remediate the security issues.
The slides are available here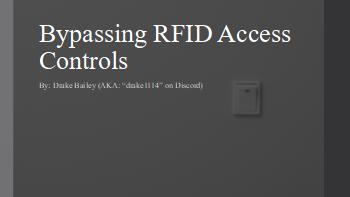 Due to technical issues with the audio recording only the last half of the presentation is available. If you are following along with the slides, the video starts with the remediation of cloning badges.